This small shop gift guide includes gift ideas for big kids, tweens and teens that are unique, special and thoughtful!
Shopping small means that you're able to find unique and special gifts that not everybody has. Although your big kids may have trendy gift ideas on their Christmas list this year, it may be fun to add in a special and unique gift or two that their friends may not have! Small shops offer unique, often hand crafted gifts. By shopping small, you not only find fun items, but you're supporting a small business and their family! In these gift guides for big kids, both boys and girls, hopefully you'll find some ideas that the big kids in your life will love!
Small Shop Holiday Gift Ideas for Big Kids (7-10)
Big kids are at an in between age where they may not be into all the toys they once were, but they also still enjoy playing and being more imaginative. These curated gift guides for big kids, both girls and boys, are filled with ideas to keep the imagination and creativity going!
Boys
Craft Box: This craft box is full of fun space themed projects including a painting and a mobile.
Custom Lego Name: This is a personalized name sign that doubles as legos!
Dinosaur Soap: Natural organic soap that has a dinosaur toy inside.
Personalized Truck Night Light: A truck night light that is customized is a great addition to a young boy's room.
Wooden Puzzle Keepsake Box: This is a puzzle that doubles into a trinket box!
Wooden Slingshot with Felt Balls: These wooden slingshots are fun and even better, they come with felt balls, so they're safe too!
Girls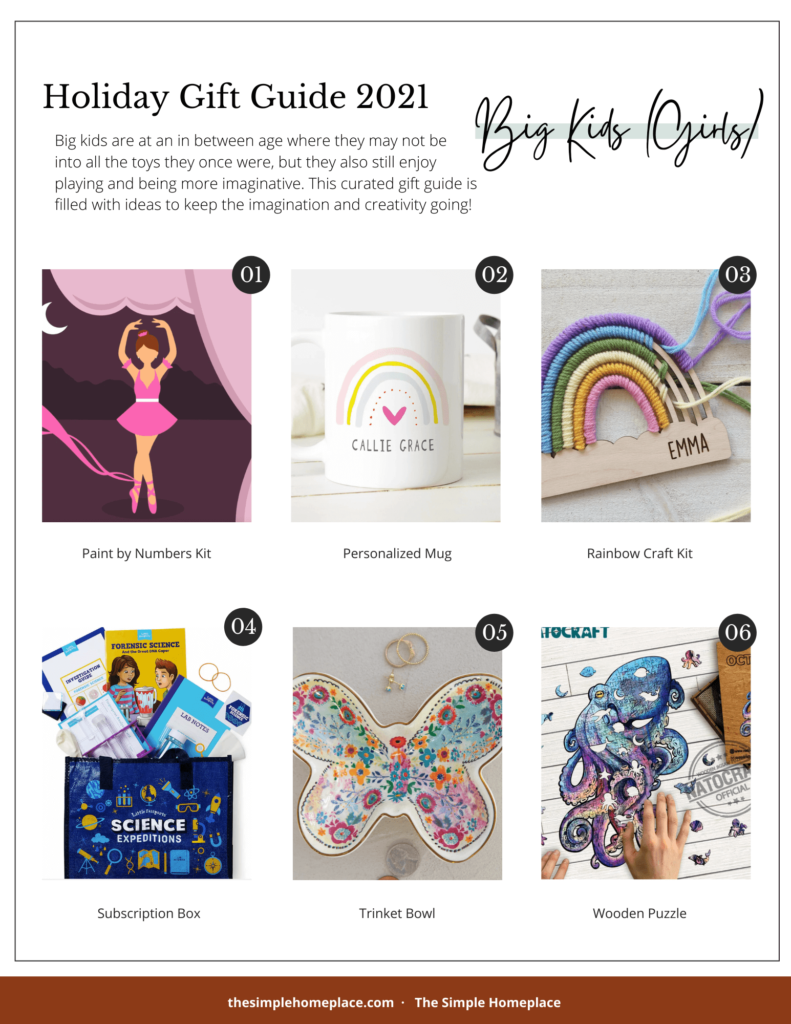 Paint By Numbers Kit: This paint by numbers kit a fun craft and makes for great decor once it's complete!
Personalized Mug: Personalized mugs are such a fun gift.
Rainbow Craft Kit: This rainbow craft kit is another gift that doubles as an activity and a decor piece.
Subscription Box: This subscription box helps kids explore science through experiments and more.
Trinket Bowl: Girls this age may be starting to collect little trinkets and jewelry, so this cute trinket bowl is perfect for catching all the little pieces they have.
Wooden Puzzle: This wooden puzzle is beautiful and is great for the whole family to enjoy together!
Small Shop Holiday Gift Ideas for Tweens (10-12)
Tweens are in a time of their lives where they're trying to figure out their interests and who they are. These gift guides for tweens, both boys and girls, are filled with gift ideas that suit a wide range of interests!
Boys
Customized Sports Water Bottle: Have a child that is a sports fan or plays sports? A customized baseball water bottle is perfect!
Device Charging Station: This wooden device charging station organizes multiple devices while charging!
Personalized Compass: Do you know a kid who enjoys playing outside and adventure? This personalized compass is a great item to have on hand.
Scratch Off US Map: This map can be hung on the wall and every time you visit a new state, you can scratch it off.
Video Game Soap: This video game controller soap is a fun gift for a kid who enjoys gaming.
Wooden Chinese Checkers Game: This beautiful wooden Chinese checkers game is fun to play with the whole family.
Girls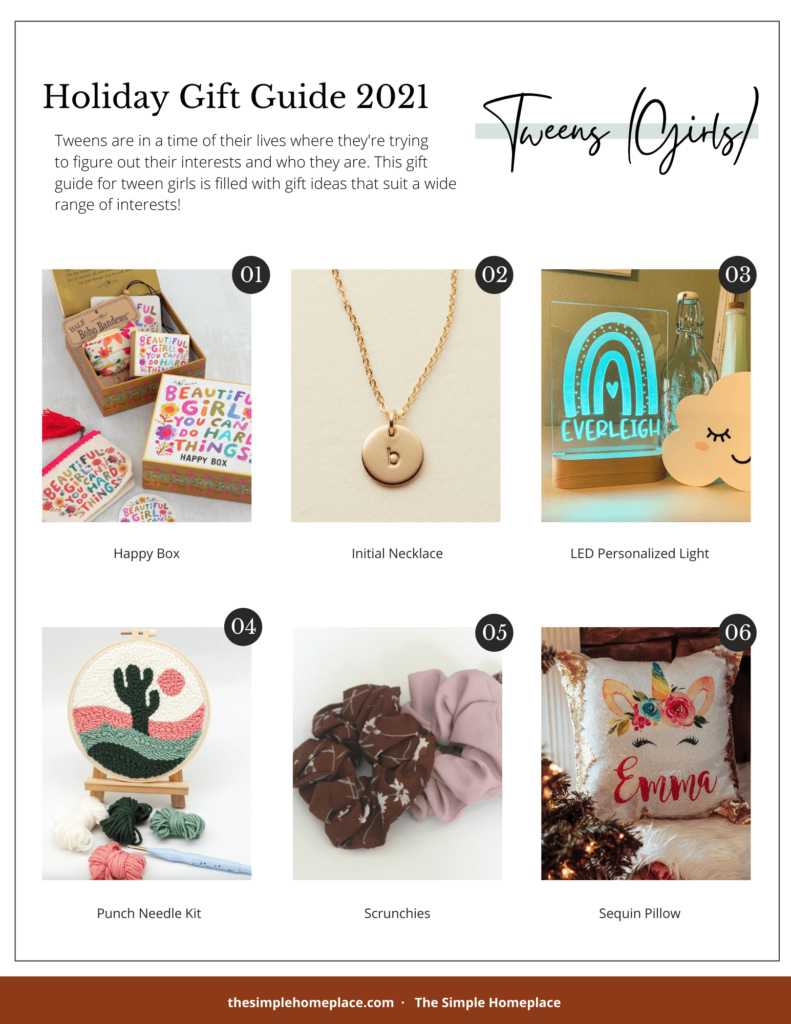 Happy Box: This happy box includes six beautiful treasures that offer encouraging phrases and notes!
Initial Necklace: This initial necklace is a beautiful piece that most tween girls would love and that they can wear for years to come.
LED Personalized Light: This personalized LED light is a great addition to bedroom decor!
Punch Needle Kit: Punch needling is a fun new trend, and this kit serves as a great project and beautiful decor piece!
Scrunchies: Handmade scrunchies are always great to have on hand.
Sequin Pillow: This sequin pillow is another fun decor piece for a tween girl's bedroom.
Small Shop Holiday Gift Ideas for Teens (13 +)
Teenagers are becoming more independent and are on their way to adulthood. These gift guides for teens, both boys and girls, are filled with gift ideas that are a bit more grown up and that appeal to popular interests of teens these days!
Boys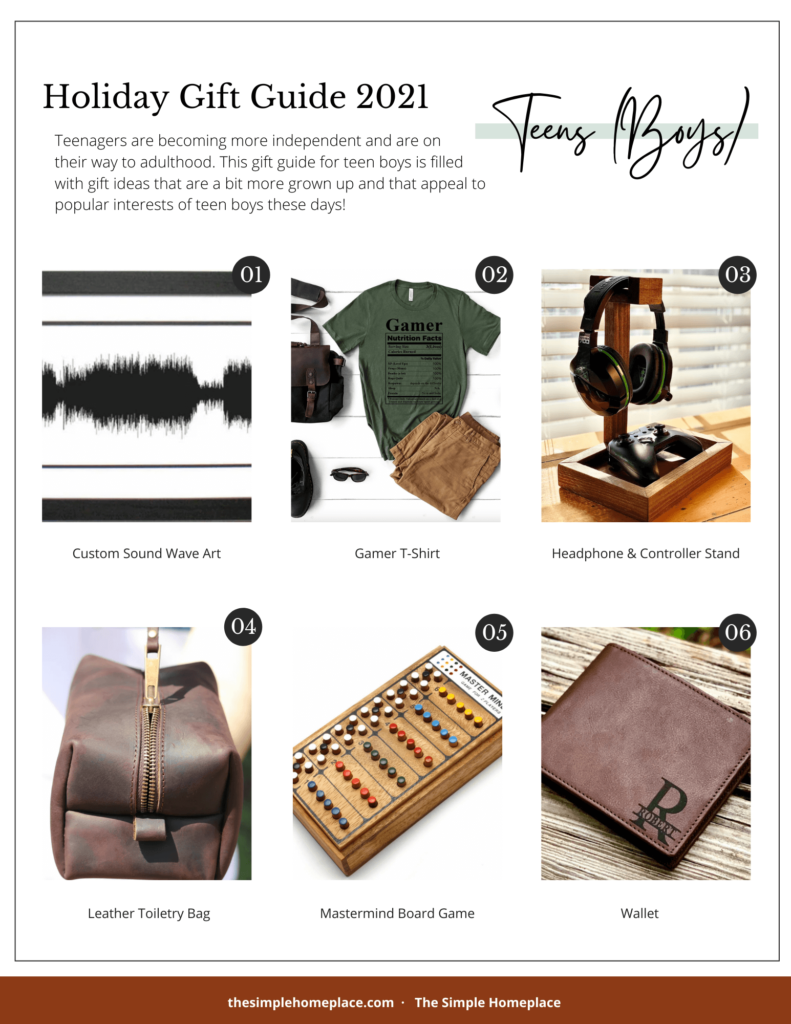 Custom Sound Wave Art: Do you know a teen who enjoys music? This sound wave art can be customized to feature the sound waves of their favorite song.
Gamer T-Shirt: Apparently many teen boys enjoy video games, so this gamer t-shirt is perfect!
Headphone & Controller Stand: Continuing with the gamer theme, this headphone and controller stand organizes gaming accessories really nicely.
Leather Toiletry Bag: Everyone needs a nice toiletry bag for travel and every day use.
Mastermind Board Game: This game will challenge the mind and is great to play with another person.
Wallet: This customizable leather wallet is a great gift for a young man.
Girls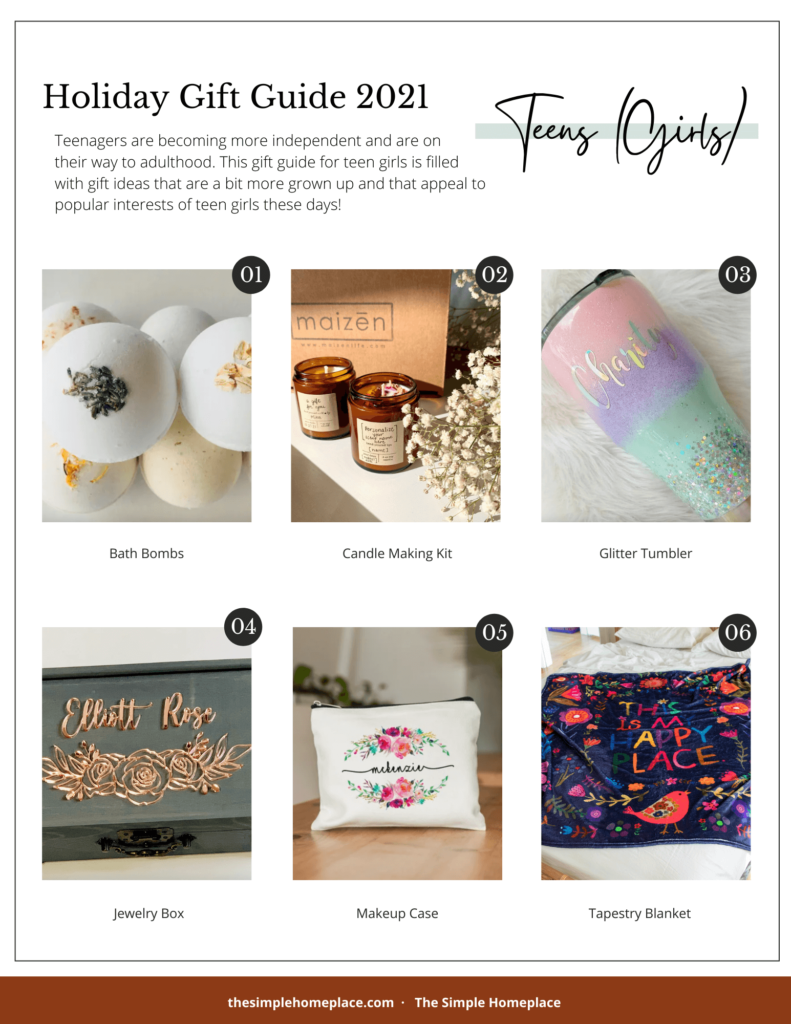 Bath Bombs: Bath bombs are a wonderful gift for anyone who enjoys relaxing in the bath.
Candle Making Kit: This candle making kit is a fun craft and allows you to choose your own scents!
Glitter Tumbler: Glitter tumblers are fun and unique gift.
Jewelry Box: A beautiful personalized jewelry box is a thoughtful gift that will last for years to come.
Makeup Case: This simple, yet beautiful makeup case is a great gift for teenage girls.
Tapestry Blanket: A tapestry blanket is perfect for snuggling, as well as a beautiful wall hanging!
WANT MORE HOLIDAY GIFT IDEAS?
Want to find more Christmas gift ideas like these? Check out the other gift guides below for 2021!
I hope you found this small shop holiday gift guide for big kids helpful. I hope it inspires you to shop locally and shop small this holiday season! Happy holidays from my family to yours!