Find a small shop holiday gift guide that includes beautiful and meaningful gift ideas for the women in your life.
In this post, you'll find three different holiday gift guides that will cater to the many different interests of the women in your life. Each guide is full of small shop gift ideas for the women in your life that are beautifully made, meaningful and thoughtful. I think you'll even be able to find an idea or two for those who are difficult to shop for! By shopping small this year, you're not only helping out a small business, but you'll hopefully not have to worry about major shipping delays!
Small Shop Holiday Gift Ideas for the Kitchen
Do you have a woman in your life who enjoys spending time in the kitchen baking and cooking? In this gift guide, you'll find a curated list of beautifully handcrafted gifts that are unique and functional for the kitchen!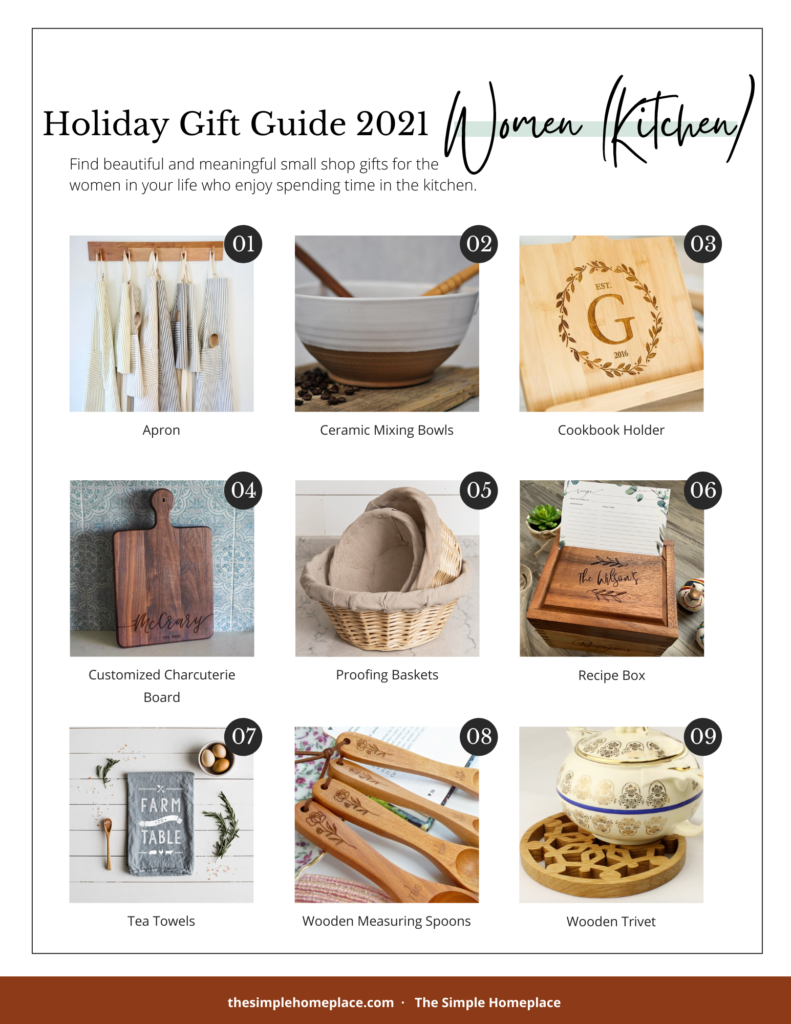 Apron: A quality apron is an essential for someone who enjoys being in the kitchen. These aprons are beautifully made and make a great gift for not only the women in your life, but really anyone!
Ceramic Mixing Bowl: Good quality mixing bowls are essential in the kitchen. This handmade ceramic mixing bowl is simple and will withstand the test of time.
Cookbook Holder: A cookbook holder is the perfect gift for someone who enjoys trying new recipes. Having a cookbook propped up and more visible is so helpful!
Customized Charcuterie Board:This beautiful customized charcuterie board is great for those who enjoy entertaining,
Proofing Baskets: Proofing baskets are wonderful to have to make beautiful loaves of bread. They also make wonderful decor pieces.
Recipe Box: While having recipes digitally is convenient, having a roladex of your favorite recipes written out and easily accessible is especially helpful.
Tea Towels: Who doesn't love a set of beautiful tea towels? These beautiful linen tea towels would look great in any kitchen!
Wooden Measuring Spoons: Wooden measuring spoons are durable, non-toxic and last a long time. They're perfect for the bakers in your life.
Wooden Trivet: Trivets are another essential in the kitchen. This beautifully crafted wooden trivet is perfect for placing baked goodies or hot dishes on to cool before enjoying!
Small Shop Holiday Gift Ideas for Self-Care
No matter who you are, self-care is super important. Most of us don't take the time for ourselves that we really need to recharge. Pamper someone you love with these natural, relaxing and cozy self-care gift ideas!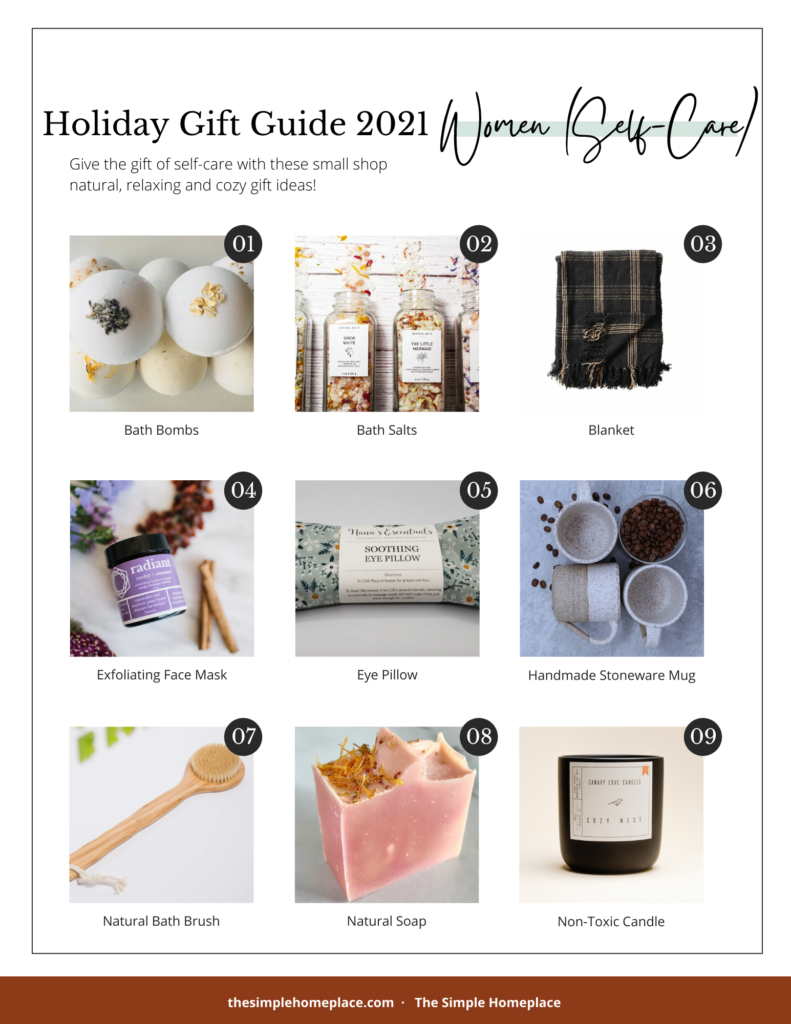 Bath Bombs: Bath bombs are a wonderful gift to give anyone who enjoys a nice bath every now and then. Not only do they smell amazing, but they often help to hydrate the skin and provide aromatherapy benefits as well!
Bath Salts: Bath salts are another great addition to a relaxing bath! They can also help to hydrate the skin, relax the body and decrease stress.
Blanket: Covering up with a cozy blanket and reading a good book or watching your favorite movie are great ways to practice self-care!
Exfoliating Face Mask: Face masks are a great way to pamper yourself. This rosehip and cinnamon exfoliating mask helps to rejuvenate skin!
Eye Pillow: Eye pillows can help relieve tension in the face, reduce puffiness in the eyes or help with a headache. They are a great thing to have on hand for the times you need them.
Handmade Stoneware Mug: Having a beautiful mug to enjoy a hot cup of your favorite beverage is a wonderful way to decompress at the end of a long day. This handmade stoneware mug is the perfect addition to any mug collection..
Natural Bath Brush: This natural bath brush is great for exfoliating the skin!
Natural Soap: A beautiful bar of natural plant-based soap is such a nice treat!
Non-Toxic Candle: Candles not only smell great, but are a wonderful way to set a more calming mood in your space. These candles are especially nice because they are non-toxic!
Small Shop Holiday Gift Ideas for the Garden
Last year led many of us to explore gardening and keeping indoor plants. If you know women in your life who enjoy gardening, you're sure to find a beautiful gift idea on this list for them!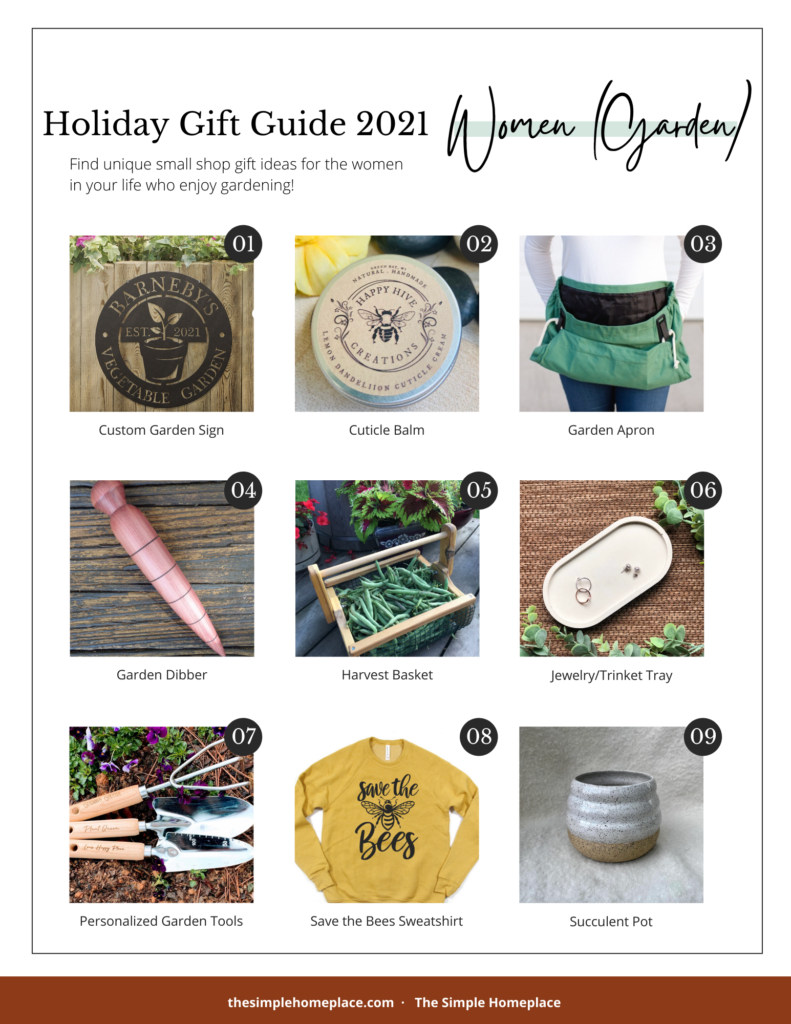 Custom Garden Sign: A custom garden sign is the perfect addition to any garden space, big or small.
Cuticle Balm: Working in the dirt can dry out the hand and nails. This all natural beeswax cuticle oil can help sooth dry and cracked nails.
Garden Apron: A garden apron is so helpful to have on hand during the gardening season. This joey apron from Roo Apron has deep pockets to help collect goodies while you're harvesting and is machine washable!
Garden Dibber: This handmade red cedar garden dibber is a simple tool that creates holes in the soil to plant seeds and plant starts!
Harvest Basket: This cedar harvest basket helps to collect your garden's bounty and can even be used to collect eggs. It also makes a cute decor piece!
Jewelry/Trinket Tray: If you don't like getting your jewelry dirty while working in the garden, this jewelry/trinket tray is a great to have around.
Personalized Garden Tools: Who wouldn't enjoy a set of personalized garden tools! This gift is great for any gardener in your life!
Save the Bees Sweatshirt: Bees are vital to our planet, especially when it comes to the growth of our food. This cute and comfy"Save the Bees" sweatshirt is perfect for gardeners and/or bee keepers!
Succulent Pot: Succulents are beautiful and easy to care for. This beautifully handmade succulent pot is the perfect for those who enjoy keeping house plants!
WANT MORE HOLIDAY GIFT IDEAS?
Want to find more Christmas gift ideas like these? Check out the other gift guides below for 2021!
I hope you found this small shop holiday gift guide for women helpful. I hope it inspires you to shop locally and shop small this holiday season! Happy holidays from my family to yours!