Learn the importance of water filtration to ensure you're hydrating your body with the safer drinking water!
Have you ever considered whether your drinking water is safe or not? Do you know what pollutants and harmful chemicals may be lingering in your water? Whether you rely on a well or the city for your drinking water, you may want to consider filtering your drinking water, even though it's considered safe to drink. In this post we'll dive into how to find out what's in your drinking water. We'll also learn what effects those chemicals and pollutants could have on your health and what filtering options you have. Let's dive into the importance of water filtration.
PIN FOR LATER!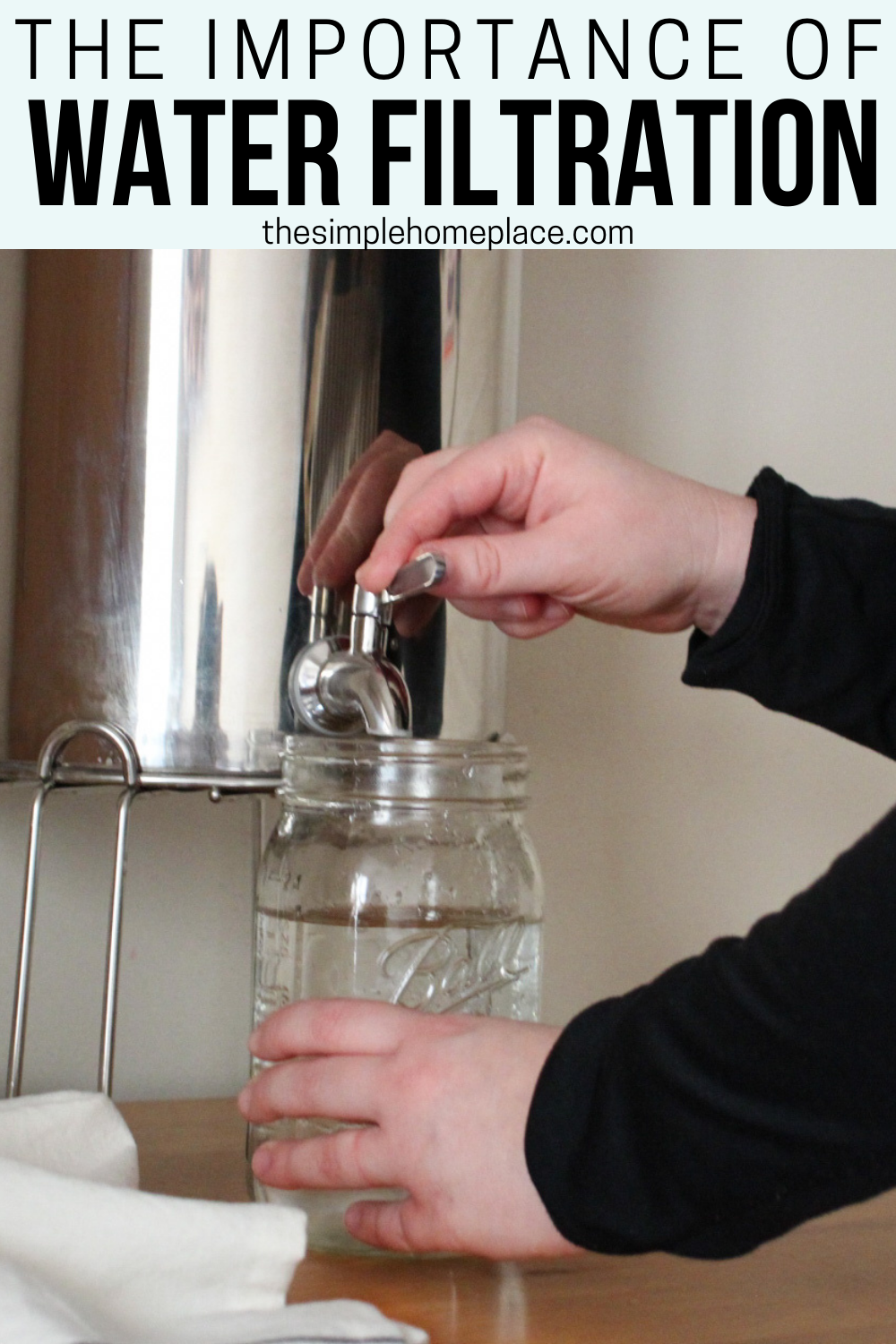 WHERE DOES DRINKING WATER COME FROM?
First, let's talk about how we get our drinking water. There are two main ways in which drinking water is acquired, water from the ground (ground water) and water from the surface of the ground (surface water). Ground water is obtained through drilling a deep hole in the ground that accesses underground water aquifers. This is called a well. Water aquifers are pockets of water that have filtered from the surface, down into the rocks and sediment underground. Wells draw that water up to the surface using a pump. Wells are very common in more rural areas. And although well water tends to be "cleaner" and tastes much better than city water, you still may want to filter it. We'll talk about more about that later on in the post.
Surface water is obtained from water sources like rivers, reservoirs, lakes, et cetera. Homes in or near a city or town may rely on what is known as city water for their source of drinking water. City water mostly comes from surface water sources into a water treatment facility. It then goes through a series of processes to make the water acceptable for drinking. First, they add chemicals to the water that bind with dissolved particles. Those particles settle to the bottom and then are filtered out. Chemicals like chlorine are added in the final step to disinfect the water. You can find more in-depth information on that process here.
HOW TO FIND OUT WHAT'S IN YOUR DRINKING WATER
Well Water Contaminants
Potential contaminants that can be found in well water include nitrites, nitrates, heavy metals, fluoride, bacteria, viruses, and other microorganisms. So how can well water become contaminated? For those in rural areas, it is common for well water to be contaminated with nitrites and nitrates since these chemicals come from the use of fertilizers on fields, human and animal waste and pesticide use. Contamination can also come from industries like paper mills, foundries, household uses of chemicals, road de-icing and so much more. For more on well water contamination, visit the EPA website.
For the reasons listed above, it's important to get your well water tested. The CDC recommends testing your well water every year. This information will be helpful when you start exploring filtering options.
City Water Contaminants
As we discussed earlier, city water is treated to make it acceptable for drinking. However, that treatment involves adding harsh chemicals and is not perfect at removing other contaminants, viruses, bacteria, et cetera. If you're curious what's in your drinking water, there are a couple ways to find out. You could order an at-home testing kit, or you can check the EWG Tap Water Database website. All you need to do is enter your zip code. Then, pick your utility and you'll be able to see what is in your drinking water. This website isn't perfect because the latest data is from 2019 (as of the date this is being published). However, it will give you a good idea of what you're working with.
The EWG report will show you what contaminants were found in your drinking water and which exceed the EWG guidelines in terms of the amount found in the sample. In their words, "Legal does not necessarily equal safe. Getting a passing grade from the federal government does not mean the water meets the latest health guidelines." For some chemicals and contaminants, the federal government doesn't have a legal limit as to what can be in drinking water. Having this information will, again, help you in choosing a water filtration system that will remove a portion or all of the contaminants in your drinking water.
Here are a few screenshots from my drinking water report from the EWG.
Out of the contaminants that were found that exceeded the EWG's guidelines, the potential effect is cancer. Here is a list of contaminants and their potential harm to the body. You shouldn't be subject to chemicals in your drinking water that cause more harm than good to your body. Water is essential to life, but shouldn't you have better water available to you? Since the source of our drinking water is often not under our control, the next best option is to filter it or buy bottled water. Let's explore what types of filtering options are available.
WATER FILTRATION OPTIONS
There are several different types of water filtration systems you can purchase for your home. The options include: activated carbon filters, distillation, ion exchange, reverse osmosis and whole house filtration systems. Once you know what contaminants are in your water, you'll be able to decide which filtration option is best for your household. Below are a few resources that I found useful in making my decision.
CONCLUSION
In conclusion, if you're working on your overall health, addressing your drinking water can be an easy place to start. Just because your water is deemed safe, doesn't mean it truly is. Investigating and doing your own research is always important too, so don't just take my word for it! If this is a topic you're just learning about, stay tuned. I'll be sharing what water filtration system I chose and why.
ARE YOU LOOKING FOR MORE POSTS LIKE THIS ONE?
Looking for more posts like this one? Check these out!