Are you thinking about switching over to a more natural laundry routine? If you're intimidated, don't be! It's easier than you think, cost effective and another step toward living a more natural life!
About six months ago or so, I decided to once and for all switch to an all natural laundry routine. For close to two years, I've been on a journey to live more naturally and use healthier, more natural cleaners and products in my home and this was a great step in the right direction for me and my family.
Growing up, using natural products just wasn't a part of my life. We used all of the mainstream, conventional body care and hair care products, cleaning products, et cetera, because that's just what we knew. In my early 20s, I loved going to popular stores and grabbing all their scented lotions and fragrant candles. They were my absolute favorite! I never thought twice about using those products because it's just what everyone did. I had no reason to question it!
Fast forward a few years to my mid 20s and I was diagnosed with asthma, then had two pregnancies back to back that somehow gave me the ability to seek out strong smells, most of which made me sick. I could no longer tolerate the strong, synthetic fragrances that were in those conventional products. So, to avoid an asthma attack and to avoid bombarding mine and my family's systems with harmful chemicals, we decided to switch to using more natural products with natural scents.
PIN FOR LATER!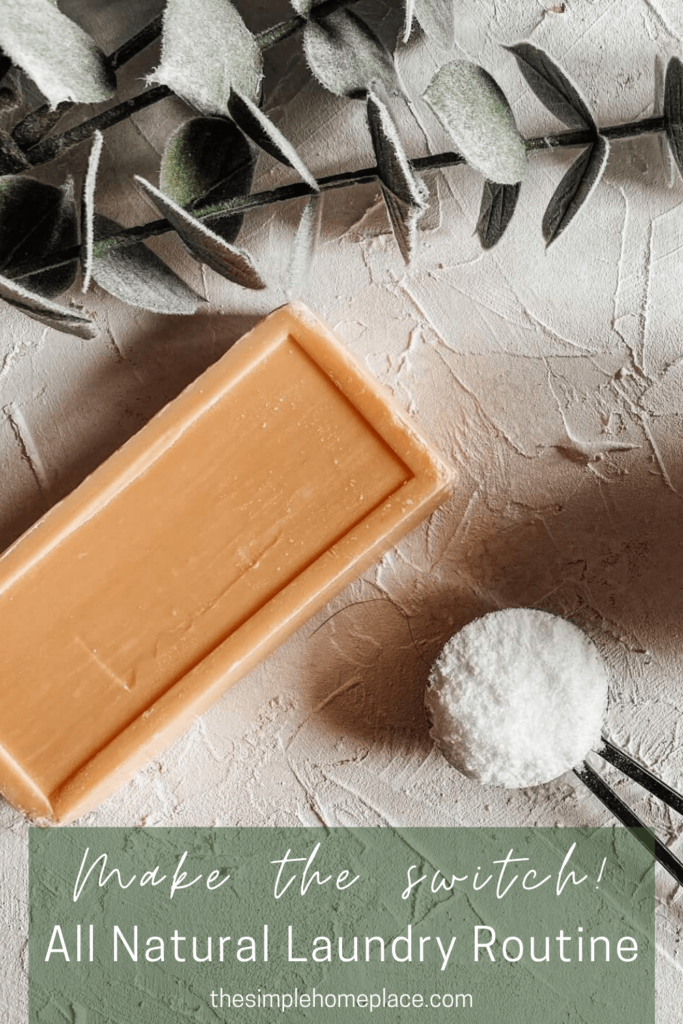 SO WHY SWITCH TO AN ALL NATURAL LAUNDRY ROUTINE?
Like me, you probably have never given much thought to what chemicals may be lurking in your laundry care products, because it's really not something you think about or question. You find your favorite laundry detergent and other laundry products and you stick with them because they work, or because you like the smell, or maybe because that's what your mom used growing up. Whatever the case may be, chances are, there's some yucky ingredients lurking in the products you use.
So why does it matter? Well, think about it this way. Your clothes, your sheets, your towels, they all touch your skin at any given point of the day. The only time they aren't is when you're in the shower or bath. Your skin is your biggest organ and it absorbs pretty much everything you put on it. What it absorbs then goes into the bloodstream, which then travels to your entire body. If you are washing your clothes and anything else that touches your skin with detergent and other laundry products that contain chemicals that could be harmful to you, then those chemicals will be transferred to your skin and ultimately into your bloodstream.
Branch Basics has a great article that talks all about the chemicals in laundry detergent and the harm they can cause. Now, let's get into some of the many natural laundry alternatives that are available!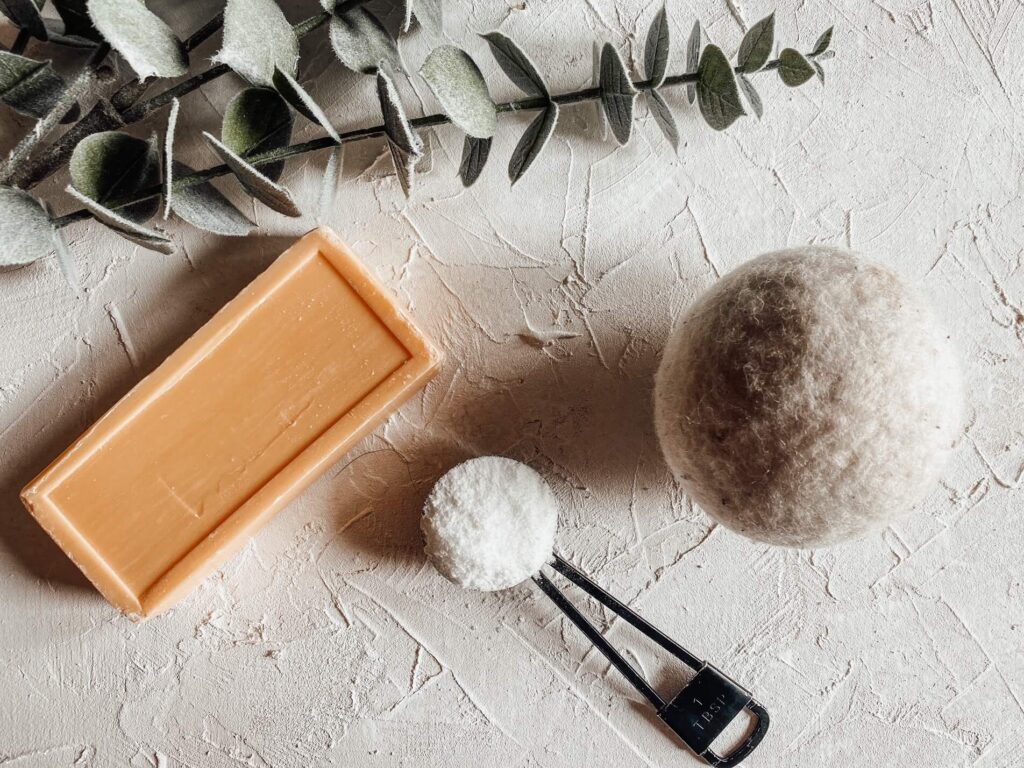 NATURAL LAUNDRY DETERGENT
Switching to a natural laundry detergent from your favorite conventional laundry detergent may be the hardest switch in your laundry routine. I know it's a hard thing to change or give up, but in my opinion, it's the first thing that should go. So what are the alternatives? Well, you have quite a few options.
First, you have to decide which route you want to take: homemade or pre-made. Homemade is by far the most inexpensive route because the ingredients are usually easy to find and really affordable.
NATURAL LAUNDRY SCENT BOOSTER
Sometimes certain items, especially towels, can hold onto scents when you use natural laundry detergent, so it's nice to give them a little boost to help them smell even better. My natural homemade laundry scent booster is great to add into the wash and makes clothes and laundry smell great! You can also add in some of your favorite essential oils (referral link) right into the wash, or add a few drops to some wool dryer balls and throw them into the dryer!
NATURAL STAIN REMOVER
Switching to a natural laundry routine also means switching to a natural stain remover. One of my favorites to use is fels naptha soap. Simply wet the fresh stain well with water and then rub the soap into the stain. Then wash and dry and the stain should be gone!
You can use white vinegar to brighten colors and whites and hydrogen peroxide can be used in place of bleach.
NATURAL FABRIC SOFTENER
I've never really used conventional fabric softener, but I've experimented a little bit with adding white vinegar into the wash (about 1/2 cup) with great results! The epsom salt in my laundry scent booster works as a fabric softener as well! Baking soda can help too.
CONCLUSION
I hope this was helpful. If you're curious about how to start making your own laundry products and other natural products for your home, I have an easy guide that can help you get started! The process of moving to more natural products is not a quick or easy one. It takes research, planning and time. It's nearly impossible for most people to change every single product in their home overnight. So if your'e not ready to change over your laundry routine to a more natural one, that's okay! Save this for later and come back to it when you're ready. Every baby step matters!