Have you ever wondered the easiest way to cook a whole chicken? Cooking a chicken in the Crock-Pot is so easy and results in a super moist and delicious bird! You literally only need two ingredients and a Crock-Pot, and you're all set to make an amazing chicken with little effort!
One hack I've found in the kitchen is to buy rotisserie chickens, shred them and then freeze them to use in future meals. It's super easy, effortless and usually inexpensive. If you have a Costco membership, that is our favorite place to buy rotisserie because they're delicious and only $10! While we still like to get rotisseries, I've also started making my own whole chickens in the Crock-Pot. The end result is really the same; a moist, tender and delicious chicken that falls off the bone, shreds easily and I can save for future meals.
I like to buy my whole chickens at Aldi. They have an organic version (which are usually smaller and more expensive) and a non-organic version. When I can find an organic chicken that is a larger size, I like to buy those, otherwise I'll buy the non-organic chicken. If you have access to a local farmer that will sell you whole chickens, even better!
The best part about making a whole chicken in the Crock-Pot is that you can put it in completely frozen! Some whole chickens will come with a bag inside and a plastic pad on the outside. Be sure to remove those before cooking (don't make the same mistake I did)! If you freeze your chicken and want to thaw it out, just place it in the refrigerator for one or two days with something underneath it, just in case any liquids spill out.
I can usually spread an entire chicken over three meals. Some of my favorite meals to make with shredded chicken are fajitas, chicken noodle soup, chicken salad sandwiches, BBQ chicken mac n' cheese, and so much more!
PIN FOR LATER!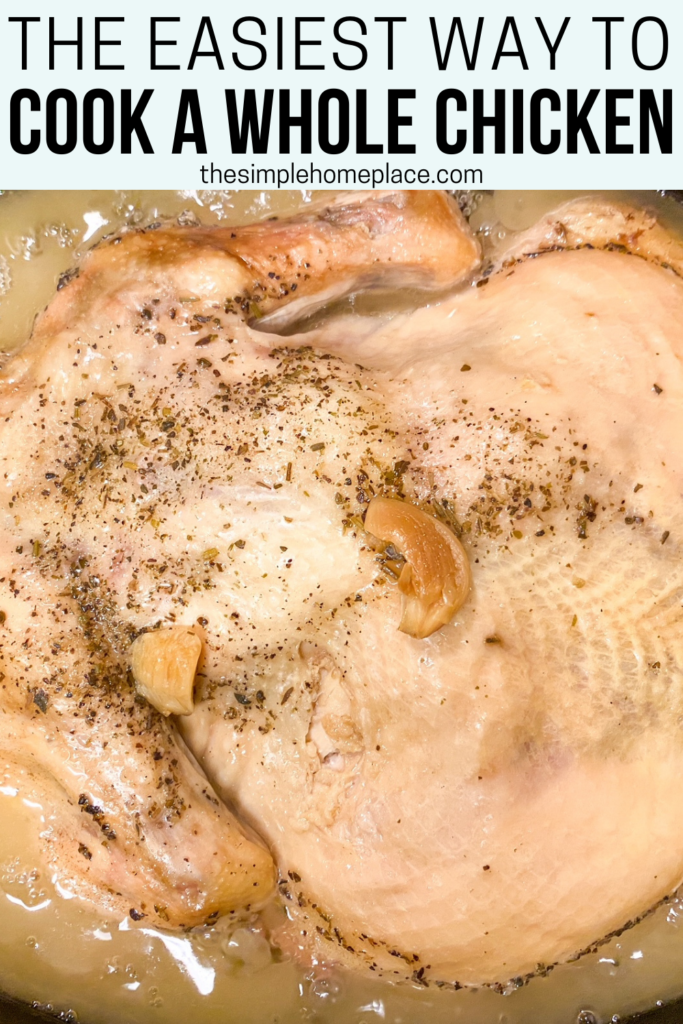 HOW TO COOK A WHOLE CHICKEN
First, place the whole chicken in the crock-pot and add any seasonings you'd like! I like Italian seasoning, garlic salt, and pepper, but choose the spices that work best for you. You can completely omit them! I also like to add some smashed garlic cloves and sometimes an onion, but up it's totally up to you.
Add 32 oz of chicken stock or chicken broth, cover and set you Crock-Pot to low and cook for 6-8 hours. If it's frozen, it may need to go closer to 8 hours. It just depends on your Crock-Pot. You can also set your Crock-Pot to high and cook anywhere from 4-6 hours. For a whole chicken, the internal temperature should be at 165 degrees, so make sure it's fully cooked before you take it out. If you don't have a meat thermometer, you'll know when the pink is gone and it's literally falling off the bone!
Remove the chicken from the Crock-Pot (you won't be able to get it all at once) and place on a cutting board. Allow to cool for 10-15 minutes and begin by picking out any bones. This chicken will literally fall right off the bone, so it will be easy to find the bones. Then, using your hands, shred the chicken and place it into a bowl to cool further. You can also use a hand mixer or stand mixer to shred your chicken, but it's not really necessary. You can use the meat right away, place in an airtight container in the refrigerator for up to a week, or in the freezer for up to 3 months.
ARE YOU LOOKING FOR MORE RECIPES LIKE THIS ONE?
Looking for more easy recipes like this? Check these out!