When you're new to gardening, you may be confused about how to calculate when to start seeds indoors. Learn in four easy steps how to plan your garden this year!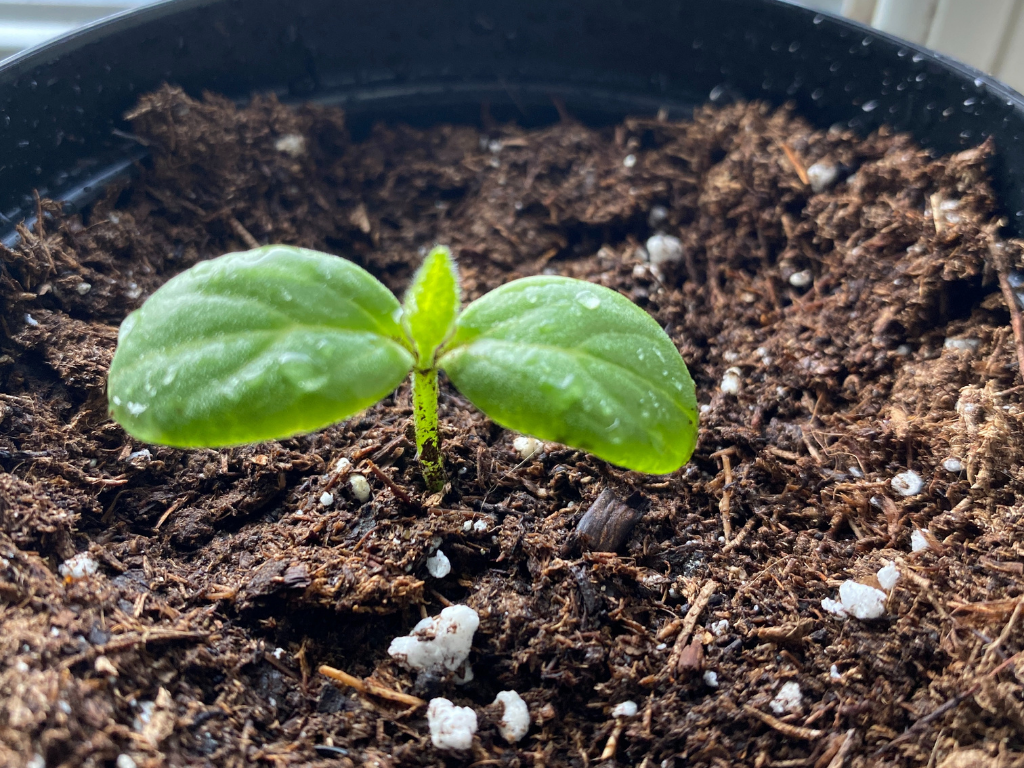 Last year was my first year gardening, ever. Now I can't say I was a total novice because I did work on an organic farm when I was in college for about a year, but I was more of a helping hand. I wasn't the one planning and making decisions on how to care for the plants, deciding when they were ready to harvest, et cetera.
After 2020, I decided that I wanted to learn how to grow my own food, preserve my own food and become more self-sufficient. I think now more than ever is the time to learn these so called "old fashioned skills" to help provide for yourself and your family. I also think it's super important that we teach our children these skills and include them in the process of learning where their food comes from. Not only is it exciting for them, but also they are learning valuable skills.
With that said, with my husband on board, we decided to grow our own garden. This involved a lot of research and planning to figure out what we wanted to grow, how we wanted to grow it and when we needed to start the seeds to get a maximum harvest. We also had the added complication of growing on a small apartment deck. Needless to say, we learned a lot from the process.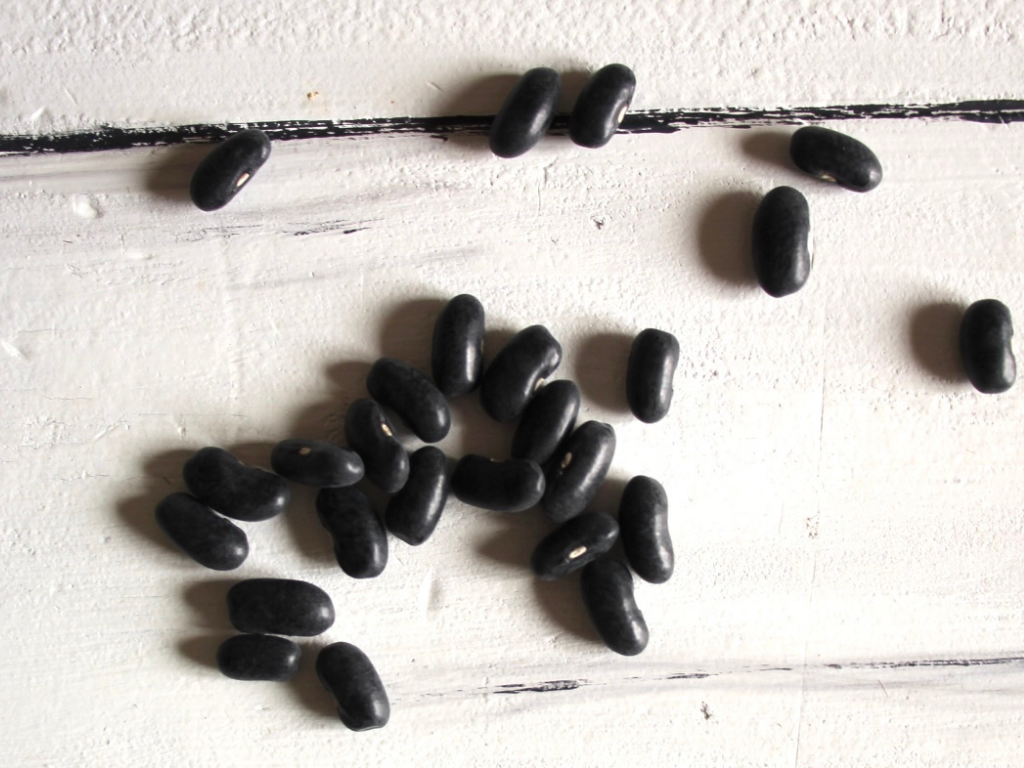 REASONS TO START YOUR GARDEN FROM SEED
There are several reasons why you would want to grow your garden from seed. First, it's a cheaper option. Seeds are relatively inexpensive compared to buying started plants. Second, you have more options in terms of varieties and types of plants, including organic and non-GMO. Lastly, you can control how the plants are grown, whether that's fully organic or without the use of harmful chemicals.
With that being said, if you are choosing to start your own seeds as opposed to buying starts, then you may feel overwhelmed trying to calculate when to start seeds indoors. You've probably come across a lot of information and now have so many other questions like, "When is my last frost date? How do I figure that out? Do all seeds need to be started 6 weeks prior to my last frost date?" Let's dive in to the steps you need to take to start your seeds and get a head start on your garden this year!
PIN FOR LATER!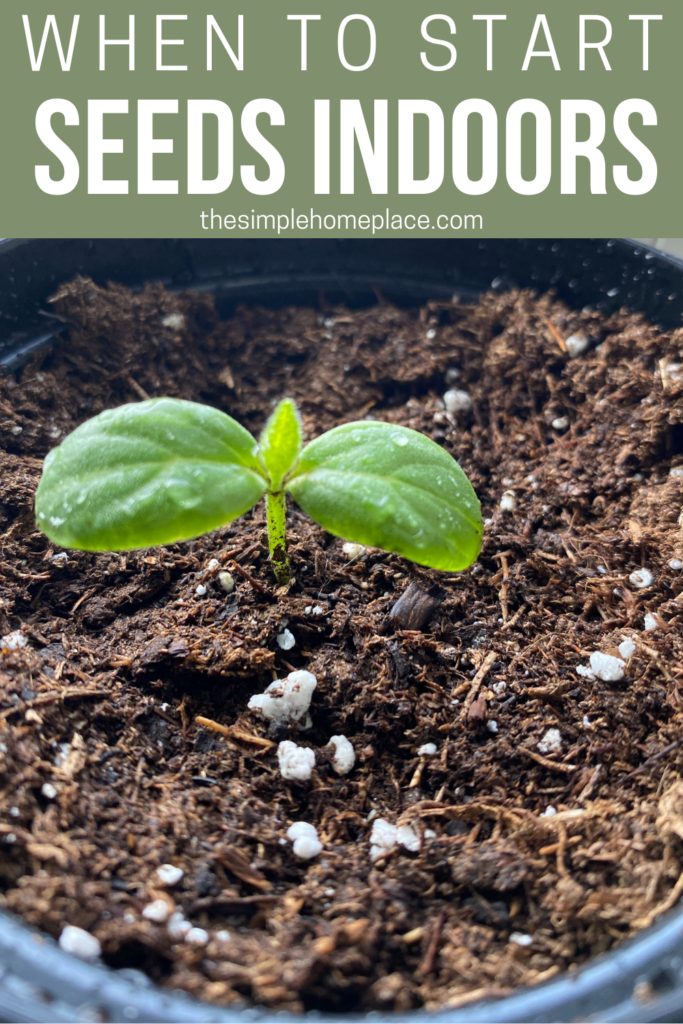 STEP 1: DETERMINE LAST FROST DATE & HARDINESS ZONE
Before you do anything else, it's important to determine your plant hardiness zone. If you've been doing any research about gardening, you may have heard or seen people talking about what zone they're in, and what they're talking about is that plant hardiness zone.
What is a plant hardiness zone?
So what is a plant hardiness zone and what does it mean? A plant hardiness zone determines, based on a geographic location, what the minimum temperature of that area is. This then determines how well plants will survive in that zone. It will also help you determine your first and last frost dates. To get a bit of a more accurate timeframe as to when to start your seeds indoors, you can use the USDA hardiness zone map to determine your zone and the Farmer's Almanac planting calculator to determine your first and last frost dates, as well as the date ranges of when to plant a variety of different plants. All you need to do is simply enter your zip code. For example, I'm in zone 4b and my last frost date is approximately May 13 and my first frost date is approximately September 26.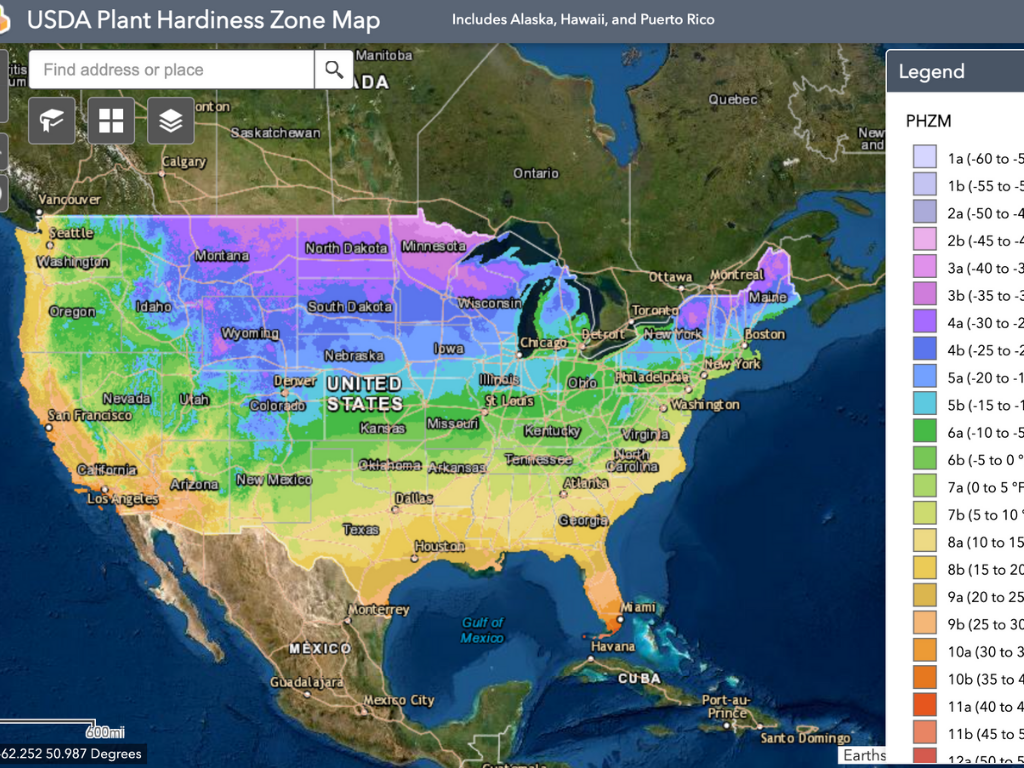 why are first and last frost dates important for gardening?
First and last frost dates are important for gardening because it tells you your approximate growing season. Typically you will move started plants or directly sow seeds into the ground after your last frost date. Once planted, your growing season goes until the first frost date, which will likely kill many of your plants. The general rule of thumb is to start your seeds indoors 6-8 weeks prior to your last frost date, but it can vary by plant.
STEP 2: DECIDE WHAT PLANTS TO GROW
Once you've determined your zone, you can then start deciding what plants you want to grow. There are a few factors to consider when it comes to this, including what type of garden you want to have, the goals of your garden and what you enjoy eating.
decide what type of garden you want
I'm a firm believer that no matter where you live, you can grow something. Last year we grew several different tomato plants, herbs, peppers and cucumbers in containers on our small apartment deck and had a great haul! You'll be surprised how much you can fit into a small space, especially if you're utilizing containers. If you have yard space, then you could consider a traditional in-ground garden, a raised bed garden, or a hybrid of all three. There's no real hard and fast rule on what type of garden you should have. You just have to assess your space and decide what will work best for you. Some of my favorite YouTube garden channels that have lots of great information are Epic Gardening, Next Level Gardening and Garden Answer. I've learned a tremendous amount from all three of those channels and I'm sure you will too!
decide WHAT YOU LIKE TO EAT/ YOUR GOALS
Just because you can grow something, doesn't mean you should. Growing a garden is about living off the land, being more self-sufficient and creating less waste. There's no point of growing food that you won't be able to utilize. So, my advice would be to choose plants that you know you will eat or you can give away.
You also have to decide what your goal is for your garden? Is your goal to preserve food? Is your goal to sell food? Are you planning on giving away some food and growing some for yourself? Answering these questions will help you decide what to grow and how much to grow.
determine what plants will thrive in your zone
Not all plants will thrive in your plant hardiness zone. For example, tropical plants like peppers may not do as well in colder climates. That doesn't mean you can't grow them, it just may mean you have to get creative with how you grow them. You can also check the back of seed packets or do some research on sites like this to determine what will grow best in your zone. If it's your first year gardening, I suggest sticking with a simple lineup of plants that will do well in your zone to have the best output possible!
STEP 3: BUY SEEDS & SEED STARTING EQUIPMENT
BUYING SEEDS
Now you're to the fun part, buying seeds! Once you have determined your zone, what you like to eat and what you want to plant, it's time to actually purchase your seeds. You can really find seeds anywhere, including big box stores. You can also choose to buy your seeds online from reputable places like MI Gardener, Seeds for Generations, Burpee and Johnny's Selected Seeds. I highly recommend you do research and find reputable places to buy seeds online to avoid any issues. Whatever you decide, I would suggest buying your seeds as early as you can!
You'll also want to purchase seed starting equipment as well which includes seed starting soil, seed cells and more. I'll have a whole post talking about what equipment you'll need to start seeds and how to start seeds soon! For now, just focus on obtaining your seeds!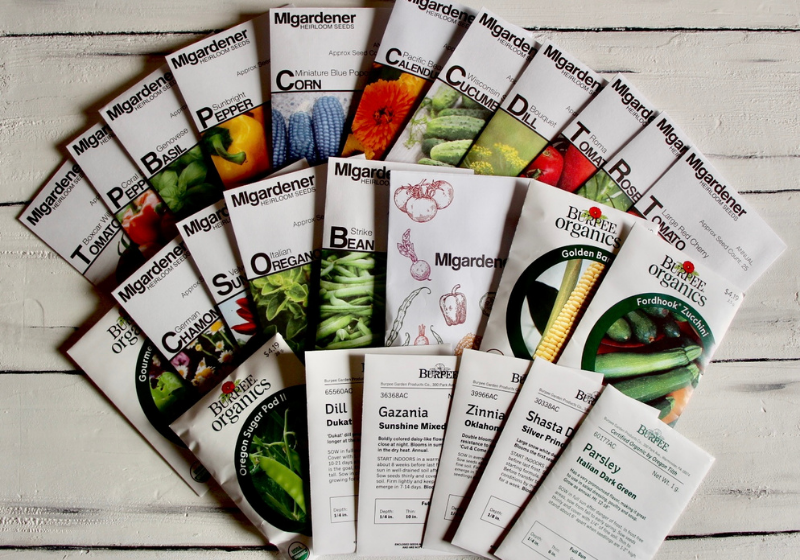 TYPES OF SEEDS
When you're selecting your seeds, you'll see labels like non-GMO, organic, heirloom, hybrid, GMO. That can get confusing, so here's a quick breakdown of what each are. You can also learn more here.
Non-GMO: GMO seeds are seeds that were genetically modified in a lab and non-GMO seeds were not genetically modified.
Organic: Organic seeds were harvested from plants that were grown without the use of synthetic pesticides and fertilizers.
Heirloom: Heirloom seeds have genetics that can be traced back in time. Heirloom seeds are harvested every year from plants that were grown the previous year. Those seeds will grow exactly the same as last year's plant.
Hybrid: Hybrid seeds are a cross of two different plant varieties within the same family. Therefore, the seed has characteristics of both "parents," which usually makes them better than either of the "parent plants."
STEP 4: CALCULATE DATE TO START EACH SEED
Know your approximate last frost date (mine is May 13).
Check the back of your seed packet. It will tell you how many weeks prior to last frost date to start the seeds.
Count backwards from your last frost date for each seed you're growing and mark it on a calendar.
Gather your seed starting supplies and wait to start each seed!
VIDEO
CONCLUSION
I hope you found this post helpful and encouraging. If you are on this journey with me and planning to start seeds this year, take a picture and tag me on Instagram ! I'll have more gardening content in the future! In the meantime, check out my natural living tutorials and simple recipes.