Are you looking for tips on bedroom organization or how to organize and declutter your home this Spring? Not sure where to begin? I've teamed up with seven other amazing bloggers who will be sharing tips on their blogs for how to organize different areas throughout the home. Be sure to check out the links below for their posts as well!
By nature, I'm a pretty organized person. I really enjoy organizing and making sure everything has a place. For me, clutter equals chaos, and I truly don't function well when the house is a mess. Having said that, things changed a bit when I had kids and I had to reel back my constant need to have things neat and tidy because well, you know. While we do a pretty great job of keeping the house mostly organized, it still can get pretty out of control. For some reason, our bedroom and closet has become the dumping ground for everything. It's kind of like an out of site, out of mind type thing, until bedtime of course!
That's why bedroom organization is super important for me! The more I keep consistent with the systems I've put in place, the easier organization becomes. If you struggle with keeping the clutter at bay in your bedroom and closet, check out my 25 bedroom organization tips below that will hopefully help you conquer your bedroom clutter too!
PIN FOR LATER!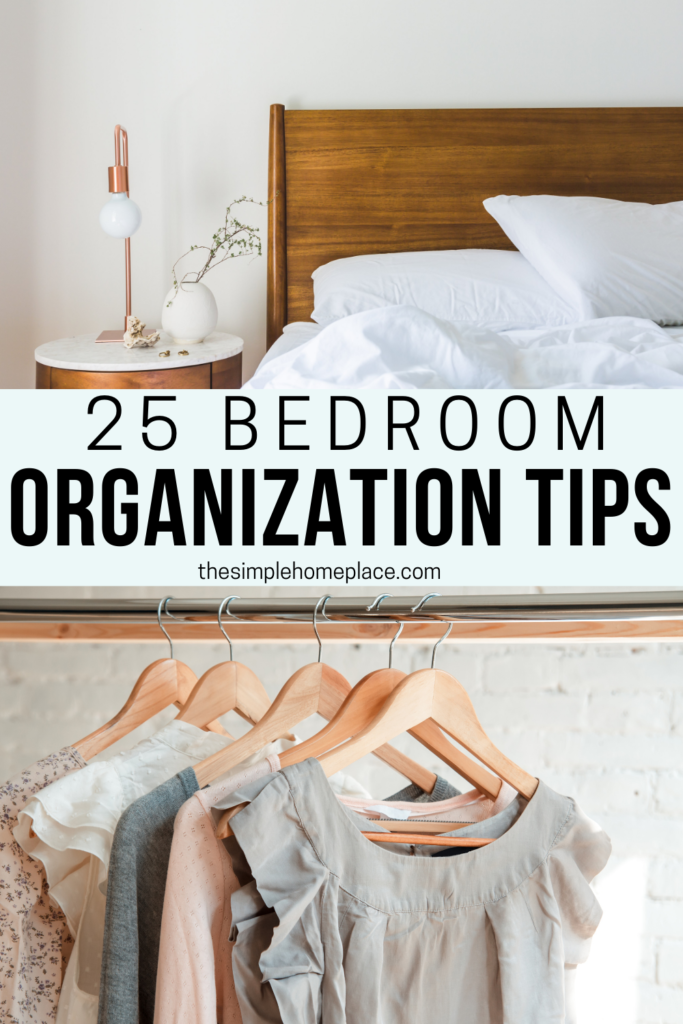 ORGANIZING CLOTHES
One big part of bedroom organization is organizing your clothes. Throughout the year, I will periodically get rid of clothes that don't fit, I don't wear, et cetera. That being said, I really love to do a purge once or twice a year (usually spring and fall), that way I can have a clear picture of what I'll need to buy for the next two seasons. I do the same thing for my kids' clothes as well. If you'd like some tips on how to manage kids' clothes, check out this post!
Before organizing clothes, I recommend catching up on laundry. Fold and hang all your clothes as you normally would. I know that sounds counterintuitive, but it helps give you a sense of how many clothes you actually have and if they even all fit in your dresser or closet. Once you've done that, it's time to get organizing!
Tips for Organizing Your Dresser
Start with your first drawer, remove everything and sort it into piles according to what it is (shirts, pants, shorts, pajama tops, socks, et cetera) so you can see everything you have.
Throw out anything that has holes or that is extremely worn and can't be worn again.
Donate items that no longer fit you, you don't wear or haven't worn in the last year.
Replace the clothing back into the drawer. If you need help keeping your drawers organized, try these drawer organizing bins, especially for undergarments, or these drawer separators or drawer cubes!
Repeat this process for all of your drawers in your dresser. If you're switching your clothes for a new season, bring those out and include them in this process as well! You should now have a nice, organized drawer! If you share a dresser with your spouse or significant other like I do, try to get them involved too.
Tips for Organizing Clothes in the Closet
Hang your clothes by type. For example, I hang my clothes in order of: tank tops, t-shirts, long sleeve shirts, sweat shirts, pants. This allows me to quickly find what I'm looking for and it allows me to see what I have, and don't have, if I'm looking to purchase new items. To make more room, try using a pants hanger that can hold multiple pairs of pants at one time! They even make hangers for scarves and ties as well!
At the beginning of the year or season, hang all your clothes backwards. As you wear them, wash and return the items back into the closet, but hang them the right way. Anything that is still hanging backwards at the end of the season or year, donate.
Get rid of clothes throughout the year. If you try something on and it doesn't fit and you haven't worn it in a long time, consider donating it. You should dress the body that you have, not the body you hope to have. I've definitely learned that lesson.
If you're in a transition period of your life where your body has changed (i.e. pregnancy, postpartum, weight gain, weight loss journey), consider removing the clothes from your wardrobe all together and storing them away. This makes sure the clothes you have in your closet are ones that fit you and you can feel good about.
Once you've purged the clothes in your closet, get rid of some extra hangers. There's no need to keep several hangers that you're not going to use. Only keep a handful on hand, or however many you think you'll need.
CLOSET ORGANIZATION
Because we live in a small space and our closet is fairly large, it has become our main storage area. It also has become sort of a catchall for random things too. That being said, we try to utilize the space to its full capacity by using storage bins and various other organizers. Here are a few tips to help keep your closet organized that I've found work for us!
Tips for Organizing your Closet
Try to group loose items and place them in these cute storage bins. For example, we store our board games in our closet, so we place all of them in a bin and have them on the shelf in our closet.
Utilize vertical space in your closet by using a hanging shelf. We use ours for overflow clothes (like seasonal items), baseball gloves, hats, overflow kids shoes, et cetera.
Speaking of vertical space, do you or your spouse have a lot of baseball caps? Try an over-the-door hat organizer!
Store extra shoes in your closet with a shoe rack!
If you have the floor space, try using a three drawer organizer to store miscellaneous items. For example, I like to store my yarn and other craft supplies there.
If you don't have shelves in your closet and are able to drill holes in your walls, add more shelving to utilize dead space.
UNDER BED STORAGE
If your bed is elevated off the floor, it's a great place for storage! Now I don't mean just shoving things under there to get them out of the way. What I mean is using bins and bags to store items underneath your bed in an organized manner. To hide it, all I did was add a bed skirt, and it looks great! Here's what I store under my bed.
Tips for Storing and Organizing Under the Bed
Store extra shoes or shoes that are out of season under your bed in an under bed shoe rack or bin.
Store extra blankets, coats, et cetera in these space saving bags!
If it fits, store your luggage under your bed.
Store other miscellaneous items in a storage bin like this!
MISCELLANEOUS TIPS
Get bedside tables that you can store things like books, your phone, water for the night, a bedside lamp, et cetera.
Your dresser can serve as a place to put a TV, if you have one in your room, store books, et cetera.
Have a collection plate on your dresser, or in a place out of the way, to collect your jewelry or miscellaneous items at the end of the day. This makes them easier to find since they're all in one place!
Put a cute hamper in your room so dirty clothes go in there directly and not on the floor.
If you're like us, you have those clothes that aren't perfectly clean, but aren't dirty. Add a basket you can place those clothes in so they also don't end up on the floor or elsewhere.
Bedroom organization is really important to me because I like to be able to come to my room at the end of the day and relax, knowing that things are off the floor and organized. It helps me feel less anxious and happier. It's a relief when everything is picked up. I hope you found these bedroom organization tips I shared useful and you can implement them in your own bedroom! Again, be sure to check out more tips from my fellow bloggers on tips to organize the rest of your home!
CHECK OUT SOME MORE POSTS FOR YOUR HOMEPLACE
Looking for more posts like this? Check these out: